By Kristin Jones and Monica Hernandez
When private equity firm Cerberus Capital Management said in 2014 that it planned to lead a group to acquire the Safeway grocery store chain and merge it with Albertsons, the news release said that "[n]o store closures are expected as a result of this transaction."
The line was taken by some to be an acknowledgement of a painful history. Safeway had been bought by a different private equity firm, Kohlberg Kravis Roberts, almost 30 years earlier in a deal that turned a huge profit for the investors. That deal became a kind of symbol of Wall Street greed—and the particular peril of highly leveraged buyouts—after a 1990 Pulitzer Prize-winning story in The Wall Street Journal outlined the costs to employees who were laid off in the wave of store closings following the acquisition.
In leveraged buyouts, investors use a large amount of borrowed money to purchase companies. These deals leave the targeted companies with heavy debt burdens, which they can pay off by selling assets, cutting expenses and redirecting cash they might otherwise use to bolster their businesses.
Though the acquisition of Safeway in 1986 attracted negative publicity, leveraged buyouts by private equity firms have become common in the intervening years—in part because they can be extremely profitable for the buyers. At their best, the deals can turn around troubled companies by making them more efficient.
But the tactic hasn't lost its ability to inflict pain.
In the five years since the Cerberus-led investors first said they planned to acquire the Safeway chain, 40 Albertsons and Safeway grocery stores have closed in Colorado alone. When the proposed merger was first announced, there were 124 Safeway stores in Colorado, and 22 Albertsons. Now, there are 104 Safeway stores and two Albertsons stores. (Some of the former Albertsons stores now operate under the Safeway banner. The two chains are now part of the same company, called Albertsons.)
Many of those closures happened after the merger was completed in 2015. Albertsons, the company, has closed more than 160 grocery stores nationwide since the merger with Safeway, according to its annual financial statements and news reports.
The losses have been devastating to some Colorado communities, particularly in low-income areas. The store closures have meant layoffs. They have hurt nearby businesses. They have also created food deserts.
After a Grand Junction Safeway closed in June 2015, it left its neighbors without a grocery store nearby. The building it occupied sat empty for years as Albertsons held onto its lease, preventing competitors from moving in.
In Longmont, nearby restaurants and stores appealed to the city for help after the closure of the Safeway, which had anchored their shopping center, dug into their sales.
And the April 2019 shuttering of the Safeway in Glenwood Springs has left 54 people, including several with developmental disabilities, without the jobs that the grocery store long provided.
David Martinez lives four blocks from an abandoned Safeway in the East Side neighborhood of Pueblo (a.k.a. Eastside). On a Friday in May, he was volunteering at a food bank that appears in the parking lot of the boarded-up space once a month.
The monthly food bank is organized by the Eastside Action Support Team, a nonprofit that supports the community. (The Trust has contributed funding to the organization.) Martinez, who is 18, found out about the event from friends at his high school. He was there to stack food and make sure people felt welcome.
The shuttering of the Safeway in November 2016 created a real hardship for Martinez's family. His father has a disability, and his mother doesn't speak English very well.
"Here at the Safeway, she had people she could talk to. We could walk here," he said. Now they have to go to the Save A Lot or the King Soopers, which are 15 and 20 minutes away by car. "My dad drives, but it's hard for him because he's a dialysis patient."
One of the things Martinez appreciates about his neighborhood is the way that everyone helps each other out. His neighbors sometimes give them food when they need it. They all know that "sometimes we don't have money and sometimes we do. We can relate to each other."
Dozens of people lined up for the food bank in May. They included retirees Denise Uhleman and Jim Armstrong. Uhleman is an avid gardener who has been on a low-sodium diet since her pacemaker was put in; it's hard to make ends meet on Social Security income, so she appreciates food banks like this one that offer fresh fruits and vegetables.
James Albo was in line with his family, including his three-month-old baby. The closing of the Safeway means that he has to take a bus to get groceries.
"It's hard on the bus," Albo said. Standing in line next to him, his sister added that she'd been chided by a bus driver—and told to get off—for carrying too many grocery bags.
After the Safeway closed, the neighborhood came together to push for a new grocery store in the same place. They went to city council and talked to legislators. It didn't work.
But the community hasn't given up. Apart from the monthly food bank, the Eastside Action Support Team is also starting a community garden not far from here, and exploring ways to make it inclusive and welcoming for everyone from young kids to older people with disabilities, says Tom Carrigan, who leads the nonprofit.
"We're focused on the food desert," says Carrigan. "How do we get healthy, sustainable food for the whole community?"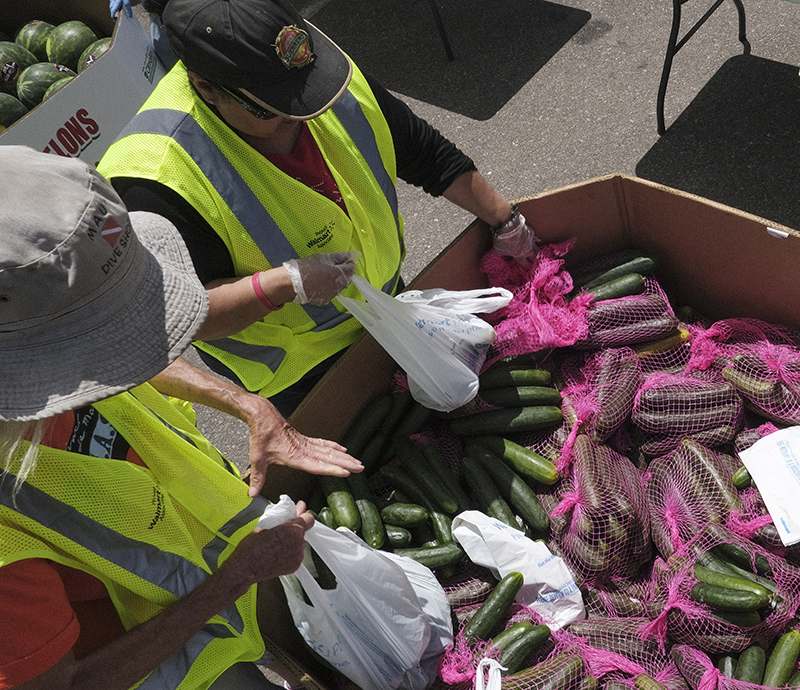 Officials from Albertsons and Cerberus didn't respond to repeated requests for comment on this story. But Safeway spokespeople have previously said that they don't take the decision to close stores lightly, and try first to improve them. They have attributed previous store closures to poor business performance at those locations.
The grocery industry as a whole is also facing significant disruption, with competitive pressure from Wal-Mart and online retailers, including Amazon and its expanding presence of brick-and-mortar grocery stores following its acquisition of Whole Foods Markets.
However, that doesn't fully explain why Albertsons and Safeway have shut down nearly a third of their stores in Colorado in the past five years, even as the population of the state and its economy have grown. Safeway's main competitor is King Soopers, owned by the publicly traded company Kroger. That chain, while facing the same economic headwinds from online shopping and Wal-Mart, has not had comparable difficulties.
The difference, according to an investigation by journalists at The American Prospect magazine, is in the companies' ownership. Across the country, they found, private equity owners are pushing grocery stores into dire straits, including bankruptcy, while lining their own pockets.
As a company, Albertsons has a debt obligation of $10.1 billion, according to its most recent annual report. It paid $830.8 million in interest expenses in the fiscal year that ended in February. This heavy burden weighs down its bottom line and hamstrings its ability to improve stores or lower prices for its customers.
Cerberus has repeatedly tried and failed to exit its investment in Albertsons—private equity owners generally buy in order to sell at a profit. An initial public offering was abandoned at the last moment in 2015—and again in 2017. Last year, a planned merger with Rite-Aid was called off. In its latest attempt to pay off debt and make Albertsons more palatable in a potential public offering, it has been selling off its distribution centers and leasing them back, saddling the company with additional rent obligations.
Nonetheless, ratings firm Moody's Investors Service recently changed its outlook on Albertsons to stable, from negative, noting its progress in improving income and paying down debt.
And the company's struggles over time don't mean that Cerberus and its investors—which include public pension funds, private foundations and university endowments—aren't getting paid. In July 2017, less than a year after closing the Safeway in Pueblo's East Side, Albertsons paid its equity holders a dividend of $250 million. That's money that might have been spent on keeping its stores open.
Stephen A. Feinberg is the co-founder and co-chief executive officer of Cerberus. He doesn't disclose his income, but Forbes estimates his net worth at around $1.6 billion. (He is also a major contributor to President Donald Trump and heads the president's Intelligence Advisory Board.) Forbes noted that, under Feinberg's leadership, "Cerberus has generated some excellent returns, and some abysmal PR."
Feinberg is famously frugal. He reportedly wears off-the-rack suits and drives pick-up trucks.
"In general, I think that all of us are way overpaid in this business," he told fellow attendees of a private equity conference in 2011, Reuters reported. "It is almost embarrassing."
Kristin Jones
Assistant Director of Communications
The Colorado Trust
Monica Hernandez
Community Partner – Southeast Colorado
The Colorado Trust